Kids Yoga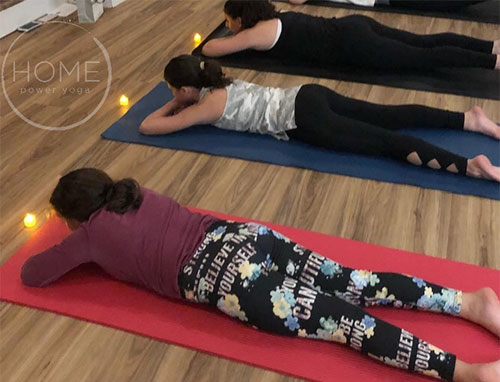 Dates: Sundays, September 15 - October 27 (No class Sept 29) Time: 4:30 - 5:30 PM Who: Teens and Tweens, 11 and older
Tweens and teens now have a HOME where they can rest their busy minds and build physical and mental strength and confidence! Each class will incorporate breathing techniques, yoga poses, and tools to help our tween and teens manage their ever-evolving thoughts and feelings. This class will be empowering and a ton of fun!!
Instructor: Jessica Bruder, Certified Childrens Yoga Instructor
Jessica lives in Westfield and has two daughters - a tween and a teen! After experiencing the endless positives of yoga as an adult, she wished that she had discovered yoga at a much younger age. From strengthening both her mind and body as well as discovering the power of breathing, she found that yoga is such an imperative life tool and something children and young adults could greatly benefit from. Jessica received her certification in 2016 and hasn't stopped since. From pre-schools to tween/teen yoga classes at yoga studios as well as camps, Jessica has been so fulfilled and is thrilled to continue her journey at HOME!
Cost: $105 for 6 week series, or $22 drop-in - Click here to enroll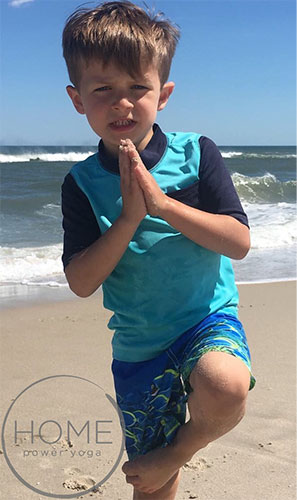 Dates: Mondays, September 16 - October 28 (No class Sept 30) Time: 1:15 - 2:15 PM Who: Kids ages 3 - 5
Yoga Friends will focus on engaging children in yoga-based games and activities geared at developing social skills, including building peer relationships, verbal and nonverbal communication skills, reciprocity, and cooperative play.
Instructor: Janine Standish, Licensed Professional Counselor and Certified Children / Teen Yoga Instructor
Janine has an extensive background in the wellness world & brings with her a multitude of skills to this new venture. It is the culmination of her intense love of fitness, her firm belief in overall wellness and the many years she spent as a Clinical Supervisor in a community mental health center- developing and running group programming, providing psychoeducation via presentations and workshops both locally and nationally. This combined with her knowledge of the brain and the impact of stress, make her the perfect candidate for promoting wellness. For nearly 20 years, she has been teaching clients mindfulness and relaxation strategies - working with individuals, families and couples contending with a variety of challenges including developmental/behavioral issues, trauma, family/relational conflict, parenting, separation/divorce, adoption, anxiety and depression. As a clinician who specializes in working with those that have experienced a trauma or suffered a significant loss, she is trained in Psychological First Aid and has served on the Traumatic Loss Coalition. As a mom of two, Janine balances her time between enjoying motherhood and her expanding private practice located in Hackensack, NJ. Janine truly welcomes the incredible opportunity to bridge her professional background with her passion for yoga, which she believes has been instrumental in growing and shaping her both personally and professionally.
Cost: $100 for 6 week series, or $20 drop-in - Click here to enroll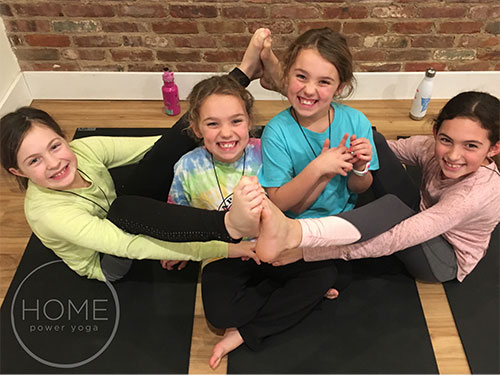 Dates: Mondays, September 16 - October 28 (No class Sept 30) Time: 4:00 - 5:00 PM Who: Kids ages 6 - 10
The YogaKids program isn't just about teaching kids yoga. These classes will empower your children -- to learn, to cope, and to be healthy and happy. We will explore yoga poses while integrating math, language and reading, ecology, teamwork, communication and much more. YogaKids' educational and fun lesson plans will have long-lasting benefits for kids both in and out of the yoga studio.
Lessons are geared towards 1st-4th graders and will focus on healthy living, understanding feelings, current and seasonal events. Children will leave class feeling physically and mentally strong and empowered.
Instructor: Shannon McGuire, YogaKids Instructor
Shannon, a Cranford native, began practicing yoga in 2009 after experiencing a life changing event. She was encouraged to try yoga and meditation to help her achieve balance, both physically and mentally. After her first class, she was hooked. Yoga helps her strengthen her brain and body during times of challenge and change. Shannon wanted her children to experience the same enlightenment and introduced yoga to her oldest daughter at the age of two. After the birth of her third child in 2017, she decided to become a certified YogaKids instructor. Shannon also recently completed HOME power yoga's first 200-hr teacher training program! She is THRILLED to share her purpose and passion with the YogaKids program at HOME, a space filled with love, compassion and acceptance.
Cost: $100 for 6 week series, or $20 drop-in - Click here to enroll